Keynote Speakers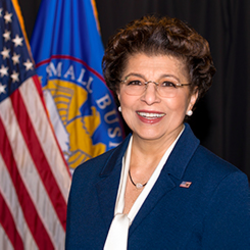 Jovita Carranza | 26th Administrator, U.S. Small Business Administration
Jovita Carranza serves as the 26th Administrator of the U.S. Small Business Administration (SBA). As a member of President Trump's Cabinet, she advocates on behalf of the 30 million small businesses in America. In her role as Administrator, she leads a team of professionals dedicated to ensuring entrepreneurs located across America have the support and resources they need to start, grow, and expand their small businesses, and recover in the event of a declared disaster.
Prior to leading the SBA, Administrator Carranza served as Treasurer of the United States at the U.S. Department of the Treasury under President Donald J. Trump. In her role as a principal advisor to Secretary Mnuchin, Carranza focused on increasing participation in our vibrant economy by fostering financial capability and sustainability.
Administrator Carranza is a Chicago native and founder of a small business consulting company. She previously served as the Deputy Administrator for the SBA under former President George W. Bush, where she received a bipartisan, unanimous confirmation by the U.S. Senate.
Before her first SBA appointment, Carranza had a distinguished 30-year career at United Parcel Service (UPS), where she was the highest-ranking Latina in the history of the company. She started as a part-time, night-shift box handler and worked her way up to President of Latin America and Caribbean operations.
Administrator Carranza earned her MBA from the University of Miami in Coral Gables, Florida and received executive, governance, management, and financial training at the INSEAD Business School in Paris, France; Michigan State University; and the University of Chicago.
---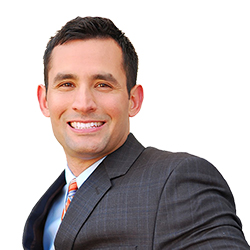 James Anderson | Native America's Success Speaker
James W. Anderson, an enrolled member of the Lac Courte Oreilles Band of Ojibwe, is one of the nation's leading authorities on peak performance and personal development. His early career got started in his Dad's highly successful restaurant empire… Famous Dave's of America… where James worked side by side with his dad… Famous Dave Anderson, learning the skills of entrepreneurship and leadership.
James is the co-creator and founder of the LifeSkills Center for Leadership, one of the nation's top personal development training companies that was featured on The Oprah Winfrey Show and has been twice named one of the 40 Outstanding Native Americans in Business under age 40 by the National Center for American Indian Enterprise Development. James is the author of Yesterday's Wisdom, Today's Success; co-author of Recipes for Success; and the soon to be released book… Famous Hospitality!
An Internationally recognized speaker and trainer, James has given over 500 presentations to businesses, organizations, colleges, and universities…who have enjoyed James' high energy, humor, and captivating messages. During his 18year speaking and training career, James has trained thousands of people in America and Canada including many top-level executives of the Hilton Hotels, Baker Tilly Financial Services, Health Care Express, and Famous Dave's of America. James shares an inspiring message of personal and professional achievement that will have your organization and team FIRED UP! READY TO MAKE IT FAMOUS and SMOKE THE COMPITITION!
Today, James is a proud husband and father and as a successful business leader… James believes that when you combine inspiration with the right tools, tips and strategies we can overcome our obstacles and achieve our dreams!
---
Jonodev O. Chaudhuri | Former Chairman, NIGC and Partner, Quarles & Brady LLP
Jonodev O. Chaudhuri has extensive experience representing tribal nations, tribal citizens, corporations, and individual clients on issues relating to commercial litigation, gaming, governance, tribal sovereignty and self-determination, and economic development. Having spent his entire career serving tribal nations and Native communities in various policy, legal, and judicial capacities, he possesses a deep understanding of the connection between the development of strong governmental institutions and tribal self-determination.
In 2013, President Barack Obama designated Chaudhuri to serve as acting Chairman of the National Indian Gaming Commission (NIGC). He was then nominated by President Obama and unanimously confirmed by the U.S. Senate in 2015. During his tenure as NIGC Chairman, Chaudhuri oversaw the $32.4B Indian gaming industry, comprised of approximately 500 gaming facilities, operated by 244 tribal nations across 29 states. While at the Commission, he provided guidance on a wide range of national policy issues including Indian gaming, economic development, energy, Alaskan affairs, and tribal recognition.
His law and policy track record extends beyond his tenure at the NIGC. Earlier in his career, he served as senior counselor to the U.S. Department of the Interior's Assistant Secretary for Indian Affairs, providing insight and counsel on policy issues. His 20-year legal career includes serving as a judge on five different tribal courts, including serving as Chief Justice of the Muscogee (Creek) Nation Supreme Court, the highest court of the fourth largest tribe in the nation.
He also served as a community organizer, adjunct professor, public defender, legal services director, and author. A highly sought after speaker, he regularly presents at national and regional conferences and symposia, including the National Congress of American Indians (NCAI), National Indian Gaming Association (NIGA), FBA Indian Law Conference, Sovereignty Symposium, National Tribal Gaming Commissioners & Regulators (NTGCR) and more, including several keynote addresses.
---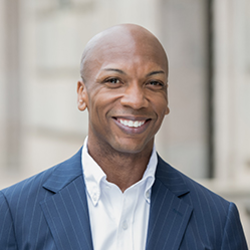 Henry Childs II | National Director, Minority Business Development Agency, U.S. Department of Commerce
Mr. Henry Childs II was appointed as the National Director of the U.S. Department of Commerce's Minority Business Development Agency (MBDA) on September 4, 2018. Director Childs is the 17th National Director of the agency. In his role, Director Childs has been laser-focused on getting minority-owned businesses to size and scale. He is doing that by starting an Enterprising Women of Color initiative, a Go-Global initiative, and investing heavily in new industries and minority growth equity funds.
Prior to his appointment at MBDA, Mr. Childs served as the Economic Development Administration (EDA) Senior Advisor and Director of Strategic Initiatives. In this role, he advised EDA on economic development issues and fostered partnerships with other federal agencies, as well as national and international economic development organizations.
Director Childs also served as the Policy Advisor to the White House Office of Public Liaison. He works closely with the White House Office of American Innovation on economic development issues for urban communities and urban revitalization.
Director Childs holds a Juris Doctorate from Saint Louis University School of Law and a graduate certificate in International and Comparative Law.
---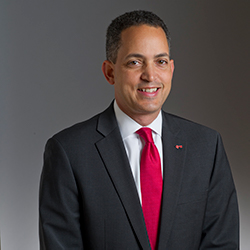 Don Graves | Head of Corporate Responsibility and Community Relations, KeyBank
Don Graves is Head of Corporate Responsibility & Community Relations at KeyBank. In this role, Graves leads Key's corporate responsibility team, including the bank's $16.5B National Community Benefits Plan, the bank's sustainability work, stakeholder engagement and outreach, and oversees the KeyBank Foundation.
Previously, he served as Deputy Assistant to President Obama, and Counselor to Vice President Biden, as Biden's Domestic and Economic Policy Director, providing advice on a range of policy issues including ways to create jobs, opportunity, and widening the path to the middle class for the American people and as his Traveling Chief of Staff. He also oversaw Vice President Biden's Cancer Moonshot effort. He was previously appointed by the President as Executive Director of the President's Council on Jobs and Competitiveness at the White House and was also appointed by the President to lead the Administration's efforts in the city of Detroit, coordinating and facilitating the federal government's investment in Detroit and working with city, state, business, non-profit and community stakeholders as the city worked through its bankruptcy and began its recovery. Mr. Graves was also the U.S. Federal representative to the G7 Task Force on Social Impact Investment.
Mr. Graves previously served as Deputy Assistant Secretary for Small Business, Community Development and Housing Policy at the U.S. Department of the Treasury. In this role, Mr. Graves managed a portfolio of policy issues including business and small business finance and development, housing finance, community and economic development, capital access, job creation and issues related to underserved communities. In addition, Mr. Graves oversaw the multi-billion dollar Small Business Lending Fund and State Small Business Credit Initiative, as well as the Community Development Financial Institutions (CDFI) Fund. Previously, he was a partner with Graves, Horton, Askew & Johns, LLC and is the former Director of Public Policy for the Business Roundtable.
Mr. Graves holds degrees of Bachelor of Arts in Political Science and History from Williams College and Juris Doctor from the Georgetown University Law Center where he received the Dean's Award. He is a fellow of the National Association of Public Administration. Currently, he serves on the Advisory Committee on Economic Inclusion (COME-IN) at the FDIC, the Advisory Committee of the Bass Center on Placemaking at the Brookings Institution, the Policy Advisory Board of the Biden Institute at the University of Delaware, the Boards of the Community Reinvestment Fund, the MetroHealth Foundation, JumpStart, the Board of Visitors of the Cuyahoga Community College, Advisory Board of the Commission on Economic Inclusion at the Greater Cleveland Partnership, a Co-chair of Cleveland Rising and Co-Champion of KeyBank's PRIDE group.
---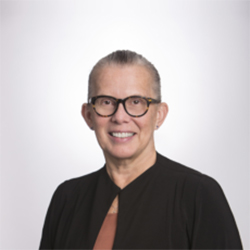 Janie Hipp | CEO, Native American Agriculture Fund
Janie Simms Hipp, citizen of the Chickasaw Nation, currently serves as CEO of the Native American Agriculture Fund. Her previous work includes founding director of the Indigenous Food and Agriculture Initiative at the University of Arkansas, national program leader for Farm Financial Management, Trade Adjustment Assistance, Risk Management Education, and the Beginning Farmer and Rancher Development programs at the United States Department of Agriculture National Institute for Food and Agriculture. She was also selected as the senior advisor for tribal relations to Secretary Tom Vilsack and director of the Office of Tribal Relations.
Ms. Hipp holds a JD from Oklahoma City University and an LL.M. in agriculture and food law from the University of Arkansas. She is the author of numerous publications, most recently joining with Wilson Pipestem, J.D., and Crystal EchoHawk to author the Feeding Ourselves report and later the Regaining our Future report with Colby Duren, J.D.
---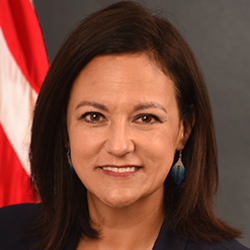 Jeannie Hovland | Commissioner, Administration for Native Americans, U.S. Department of Health and Human Services
Jeannie Hovland, an enrolled member of the Flandreau Santee Sioux Tribe of South Dakota, is the Commissioner of the Administration for Native Americans (ANA), an agency within the U.S. Department of Health and Human Services. ANA promotes self-sufficiency for Native Americans by providing discretionary grant funding for community-based projects as well as training and technical assistance.
Hovland oversees ANA's discretionary funding programs to American Indians, Alaska Native, Native Hawaiians, and Pacific Islanders; serves as an advocate for Native Americans; and coordinates activities within the U.S. Department of Health and Human Services (HHS) to develop policies, programs, and budgets affecting Native Americans all under the authority of the Native American Programs Act.
As Commissioner, Hovland serves in the dual role of the Deputy Assistant Secretary for Native American Affairs, affirming the government-to-government relationship between the Administration for Children and Families (ACF) and Indian tribes.
Since her confirmation in June 2018, she has visited with hundreds of tribal leaders and community members in dozens of Native communities for listening sessions and tribal visits. In August 2018, the Commissioner testified before the Senate Committee on Indian Affairs to advocate for Native American language preservation and maintenance, and again on February 27, 2019 to promote social and economic development in Native American communities. In September 2019, she testified to the House Subcommittee for Indigenous Peoples of the United States on the crisis of Missing and Murdered Indigenous Women. In November 2019, she was appointed to the Federal Task Force on Missing and Murdered American Indians and Alaska NativesVisit disclaimer page.
Hovland chairs several advisory councils, including the ACF Native American Affairs Advisory Council and the Secretary's HHS Intradepartmental Council on Native American Affairs (ICNAA). She serves as an advisor to the Secretary and provides advice, opinions, and reviews policies affecting Native Americans while addressing issues of importance to tribal communities through partnership with all of the HHS Operating and Staffing Divisions.
Prior to her appointment, Hovland served as senior advisor to the Assistant Secretary for Indian Affairs at the Department of the Interior. Hovland has also served as the tribal affairs advisor to Senator John Thune (R-SD) for more than 12 years. Hovland played a key role in advocating for legislation at the requests of Indian tribes on such issues as agriculture, services for law enforcement and veterans, and quality access to healthcare. She worked to develop legislation such as the Tribal Law and Order Act of 2010 and the Code Talker Recognition Act of 2008.
Prior to her time in public service, Hovland was CEO of Wanji Native Nations Consultants which offered training services for Tribal programs and Tribal governments.
---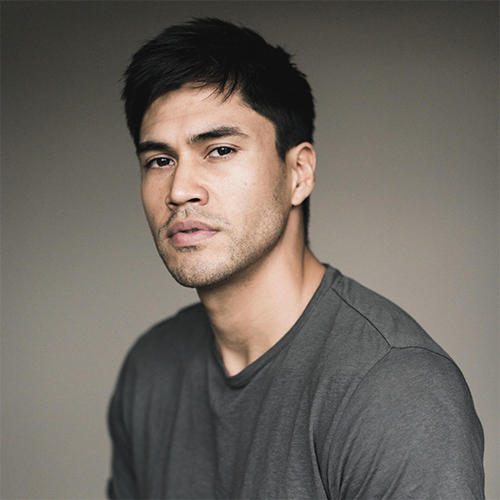 Martin Sensmeier | Actor and Producer
Martin Sensmeier is an Actor and Producer based in Los Angeles. He is originally from Yakutat, Alaska. A small coastal community in Southeast Alaska.
He is best known for his portrayal of the character "Red Harvest" in the "Magnificent Seven" with Denzel Washington and Chris Pratt, HBO's Westworld, and Yellowstone. He played the lead in his two most recent projects which are due out next year. 'Netflix's', "The Liberator" a four-part limited miniseries, and "The Last Manhunt" a film produced by Jason Momoa's production company, On The Roam.
Martin has been cast as Jim Thorpe in the upcoming Thorpe biopic "BRIGHT PATH, The JIM THORPE STORY produced by Angelina Jolie.
Martin is also a National spokesperson and Ambassador for the Native Services of the Boys & Girls clubs of America, as well as The Native Wellness Institute.
MAGNIFICENT SEVEN Scenes:
http://vid.unitedtalent.com/martinsensmeier-magnificentseven
Native Business Magazine:
https://www.nativebusinessmag.com/martin-sensmeier-on-bright-path-the-jim-thorpe-story/
View the Agenda