Frequently Asked Questions
When will the Summit take place and where is it located?
The Summit will take place March 11-14, 2024 at the Caesars Palace in Las Vegas, NV.

How can I register and what are the registration rates?
Registration information coming soon.

What is included in the cost of attendance?
Full 3 days of access to Summit activities
Discounted hotel rate at the host hotel, Caesars Palace
Artisan Market
Trade Show
Business Networking

How do I book a hotel room and what are the rates?
Visit the Hotel & Travel page for detailed information.

How can I reserve exhibitor space?
Visit the Trade Show page for information and to register as an exhibitor.

How can my organization become a Summit sponsor?
Contact Erin Abrahamson at erin@ncaied.org.

Where can I find the agenda for the Summit?
Agenda coming soon.

Health & Safety
The RES 2024 Summit is fully committed to holding a rewarding event at Caesars Palace in Las Vegas, NV. Providing a safe environment for our event participants is a top priority. Achieving this is a shared responsibility. By attending the RES 2024 Summit, you agree to abide by and engage in conduct that is beneficial to health and safety while attending the event. Caesars Palace is also committed to high standards of cleanliness and excellent service. Learn more at Caesars Health and Safety.
Who is The National Center for American Indian Enterprise Development?
The National Center for American Indian Enterprise Development is a 501(c)(3) non-profit organization. With over 40 years of assisting American Indian Tribes and their enterprises with business and economic development – we have evolved into the largest national Indian specific business organization in the nation. Our motto is: "We Mean Business" as we are actively engaged in helping Tribal Nations and Native business people realize their business goals and are dedicated to putting the whole of Indian Country to work to better the lives of American Indian people, both now… and for generations to come. Learn more.

Who can I contact if I have additional questions about the Summit?
Visit the Contact page for contact information.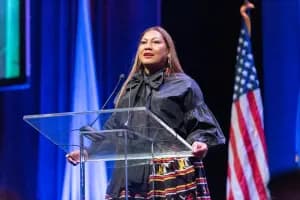 Summit Information
March 11-14, 2024
Caesars Palace | Las Vegas, NV
Stay Connected
#RES2024
Sign Up for Summit Updates